FlowCon Green.0/1/2
DN15-32 (1/2"-1 1/4")
Pressure independent balancing and control valves (PIBCV/PICV)
Total authority
Choice of actuator:

FN actuators: electrical 0(2)-10V modulating, 3-point floating or 2-position, optional failsafe
FT actuators: thermal 0-10V modulating or ON/OFF, standard failsafe

Adjustable to 41 different maximum flow rate limits
Forged brass or DZR brass housing DN15/20/25 (1/2"-1") and forged brass housing DN25/32 (1"-1 1/4")
Optional pressure/temperature plugs
Fixed female-by-female threaded
Sizes:
Green.0/1/1HF: 20 mm (3/4"), applicable for DN15/20/25 (1/2"-1") valves
Green.2: 40 mm (1 1/2"), applicable for DN25/32 (1"-1 1/4") valves
ΔP-range:
16-800 kPaD (2.3-116 psid)
Flow rate:
0.0103-1.29 l/sec (0.163-20.4 GPM)
FlowCon Green.3
DN40-50 (1 1/2"-2")
Pressure independent balancing and control valves (PIBCV/PICV)
Total authority
Choice of actuator:

FH actuators: electrical 0(2)-10V modulating, 2-position or 3-point-floating, optional failsafe

Adjustable to 41 different maximum flow rate limits
Forged brass housing or ductile iron housing
Optional pressure/temperature plugs
Fixed female-by-female threaded
Sizes:
Green.3: 40-50 mm (1 1/2"-2")
ΔP-range:
16-600 kPaD (2.3-87 psid)
Flow rate:
0.528-3.79 l/sec (8.36-60.0 GPM)
Take a Tour inside FlowCon Green
Learn how the FlowCon Green insert is installed, set and actuator mounted. See how the Green insert's rolling diaphragm technology works. And finally understand how the Green insert functions together with its actuator and works as a true PICV during any operation situation.
The animation shows in inner working of the FlowCon Green.2 but represents all Green inserts in the range.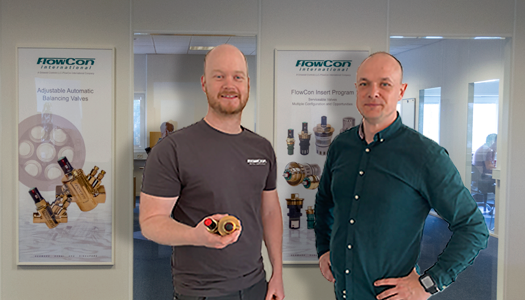 Questions?
Then Give Us a Call
If You have any questions, either in regards to FlowCon's products and services or how and where to use FlowCon products, just get in touch and we will be pleased to assist.
Response time is normally within 8 hours if question is asked in English and during office hours. Other languages and requests asked during vacation time or weekends may experience longer response time. Likewise for any special – out of standard – requests, You may not see an immediate reply, but we are responsive.