test reference element test 2
At FlowCon we focus directly on Development of New Products as well as further Development of our current Product Range. This gives You, as a customer, a Wide Range of Options to choose from when looking for the Proper Product Solution.
Which Solutions does FlowCon offer?
We can supply energy efficient and well-proven products for Heating, Cooling, Energy and Domestic Water. For each solution group below You will find more solution specific description and recommended products.
- which is included in the first letter of the word HVAC - refers to the technology of indoor comfort when the outdoor weather is colder. The entire Heating System includes heat source, pipe work, valves and units. Heating Units are among other things radiators, air curtains, fan coil units ...
Opposite heating, HVAC Cooling refers to the technology of indoor comfort when the outdoor weather is warmer. The entire Cooling System includes cooling source, pipe work, valves and units. Cooling Units are among other things chilled beams, fan coil units and larger air handler units as well as chillers ...
Energy is relatively new in relation to HVAC. It refers to the technology of optimal indoor comfort and lowest needed pressure and is relevant in regard to both heating and cooling. Important is, that the system will regulate on ΔT alone. This is especially essential in critical systems found in some commercial ...
Domestic water - or more correctly Domestic Hot Water (DHW) - refers to the hot water in sinks, showers and baths in any type of building for domestic purposes, like sanitation, personal hygiene and food preparation. It is wise to know that DHW is not only relevant in private homes but is used in any building ...
---
---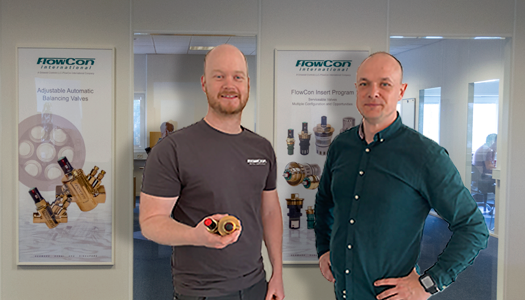 Questions?
Then Give Us a Call
If You have any questions, either in regard to FlowCon's products and services or how and where to use FlowCon products, just get in touch and we will be pleased to assist.
We will react as soon as possible, and written reply is normally within 8 hours if Your question is asked in English and during office hours. Other languages and requests asked during vacation time or weekends may experience longer response time. Likewise, for any special – out of standard – requests, You may not see an immediate reply, but we are responsive.