Differential Pressure Control Valves (DPCV)
in Heating Applications
How do DPCV benefit your Heating Application?
Differential Pressure Control Valves - also commonly called DPCVs - are installed in heating systems to control sub-circuit pressure to a set or given maximum which also limits the flow at full load.
FlowCon's DPCV range includes three different types. One type with pre-set ΔpC (differential pressure across the circuit), one type with adjustable ΔpC and finally one type being a combined dynamic balancing valve and adjustable DPCV. Together, they offer a flexible range meeting any heating system demand.
FlowCon's DPCV insert solutions, FlowCon SDP, EDP and ADP, fit well on smaller pipe sizes. For larger pipe sizes we recommend the FlowCon PIM™-DP.
What makes FlowCon's DPCV superior?
A good DPCV will control the differential pressure dependent on current load.
FlowCon offers a well-proven DPCV insert design with patented rolling diaphragm technology in a compact and robust design. The internal rolling diaphragm and the diffusion zone reduce the influence of cavitation during operation, which consequently reduces the possibility of noise and vibration.
And the composite material of the DPCV insert body makes it difficult for particles to stick. This, together with the self-cleaning functionality, makes FlowCon inserts resistant to dirty water.
Special benefits with FlowCon DPCV inserts
With the unique FlowCon DPCV insert range, three versions are available which each offers several different benefits:
FlowCon SDP (fixed ΔpC control): basic, tamper-proof and cost effective
FlowCon EDP (adjustable ΔpC control): full threaded range, flexible with adjustable setting and 360° turning of connection point which gives best value-for-money
FlowCon ADP (adjustable combi ΔpC and flow control): unique 2-in-1 solution including thermal ON/OFF control.
Common for all FlowCon's inserts are essential benefits such as:
Simple flushing, as full force flushing forward and backward is possible without the insert present.

Easy maintenance, as the design allows service or replacement of the insert without removing the valve housing from the installation.

Uncomplicated waste handling – at end of use, valve housing and insert are easy to separate and sort properly.
FlowCon's range of DPCV includes: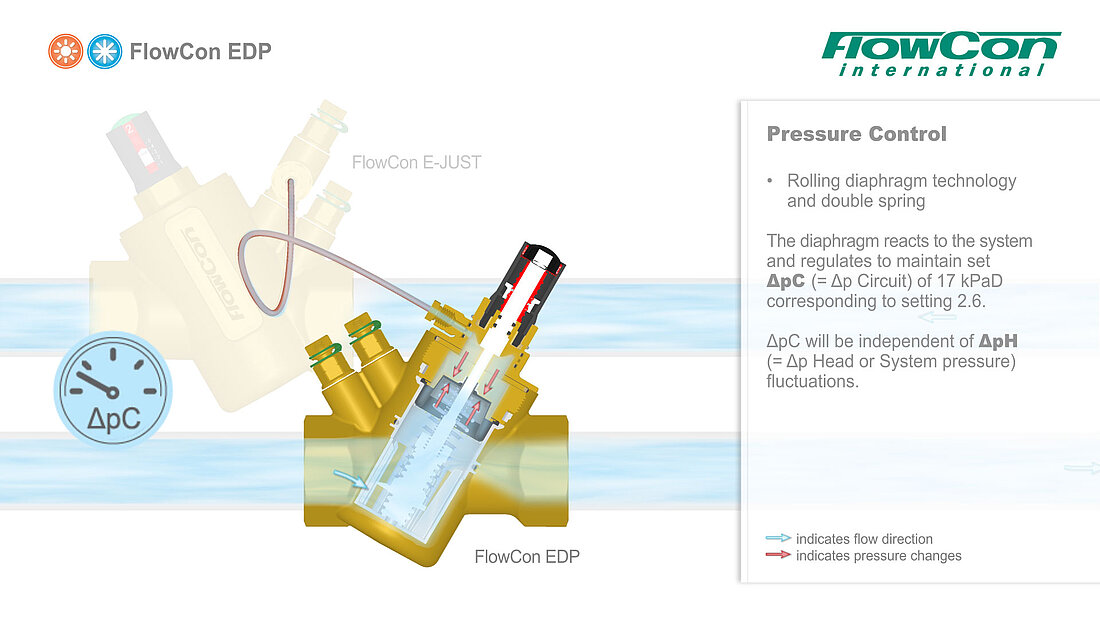 Take a look inside the FlowCon EDP
Differential Pressure Control
How does the FlowCon EDP work?
How is the EDP insert set and installed?
Which features does the EDP hold?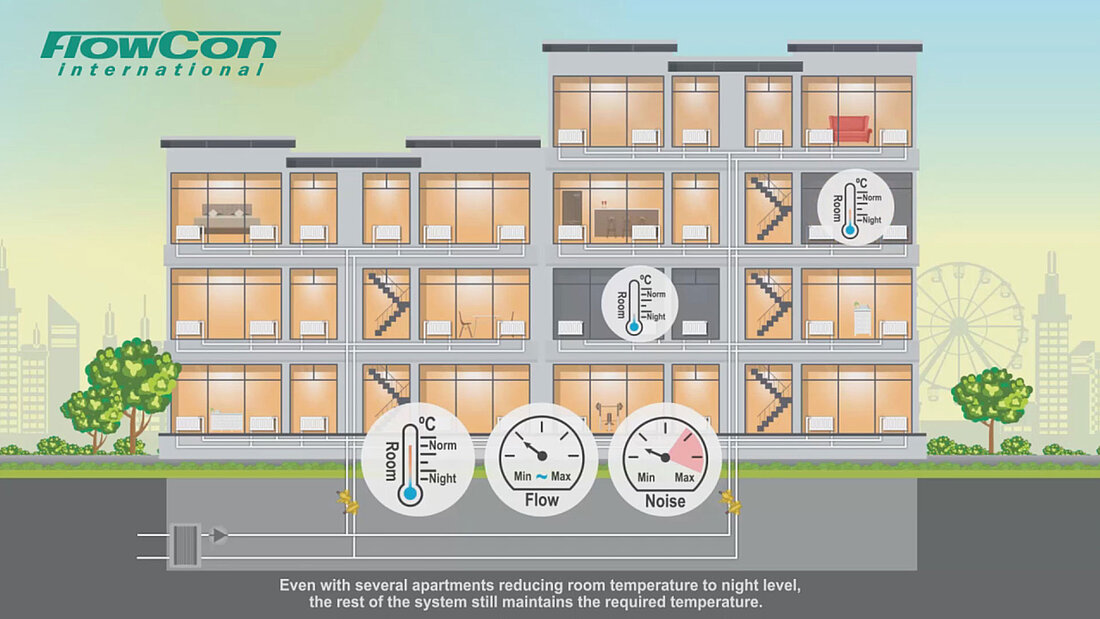 FlowCon EDP Application Example
Heating System in Apartment Block
How does a conventional heating system work?
Which inconveniences are experienced?
Which effect does the installation of FlowCon EDP have?
DPCV working principle
What is a DPCV?
A DPCV is a valve that operates to maintain a constant differential pressure between two points independent of supplied pump head.
The DPCV is installed in the return pipe and used in conjunction with a partner valve in the supply pipe. The partner valve can be a simple T-connection, an isolating ball valve, a static balancing valve or a dynamic balancing valve – FlowCon offers the three later partner valve options.
Why choose a DPCV?
With a DPCV installed in Your heating system, You will achieve reduced energy consumption, avoid the risk of annoying noise and have a simple commissioning process. FlowCon's DPCV inserts are the energy efficient choice due to a minimum differential pressure of only 3 kPaD to activate the valve.
How does a DPCV work?
A DPCV includes a diaphragm, a spring and a capillary tube connecting the partner valve in the supply pipe and the DPCV valve in the return pipe to control the circuit pressure loss.
• ΔP Control
The DPCV diaphragm will regulate to control ΔpC (differential pressure across the circuit) depending on pressure impulse from the supply side and direct pressure from the return side. The spring force will equal the ΔpC.
In all FlowCon DPCVs the diaphragm will be a rolling diaphragm which will result in a very compact valve design. Depending on the FlowCon Differential Pressure Control Valve selected, ΔpC may be fixed or externally adjustable.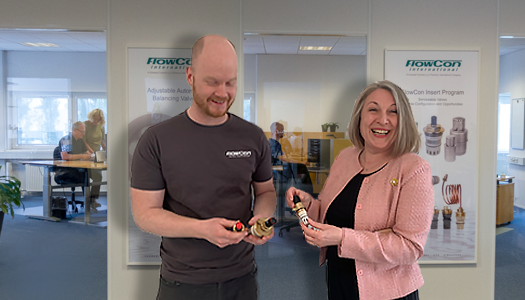 Still in Doubt?
Please Contact Us
If You are in doubt which Solution to choose to Your Application or how a specific product is working, please do not hesitate contacting FlowCon.
We will react as soon as possible, and written reply is normally within 8 hours if Your question is asked in English and during office hours. Other languages and requests asked during vacation time or weekends may experience longer response time. Likewise, for any special and out of standard requests, You may not see an immediate reply, but we are responsive.