Heating Applications with
Pressure Independent Control Valves (PICV)
How do PICV benefit your Heating Application?
Pressure Independent Control Valves or Pressure Independent Balancing and Control Valves – also commonly known as PICVs (or PIBCVs) – are getting more and more popular in both 2- and 4-pipe heating applications due to their accurate flow control at any load condition, even at very low flow rates. FlowCon's PICV range includes four different types. Particularly, FlowCon GreEQ and Green insert solutions are commonly selected for smaller pipe sizes in heating applications. As a low-cost alternative, you could also consider the FlowCon UniQ®. For larger pipe sizes the ideal choice will be FlowCon Green.3 and SM.
What makes FlowCon's PICV superior?
A good PICV will offer 100% authority no matter the design flow it is set to and regulate with a full control span from 0(2)-10V control signal dependent on actual load requirements. Control mode is traditionally made with a linear control signal, but designs are at present time frequently made with equal percent signal – clearly FlowCon offers both. Also, it is essential that the balancing valve function is adjustable, dynamic and pressure independent which is the essence of FlowCon's business since decades. Rule of thumb for heating applications is a ΔP range up to 200 kPaD, which is available in all four FlowCon product types.
Special benefits with FlowCon PICV inserts
With the unique FlowCon insert range under FlowCon GreEQ and Green other essential benefits are achieved. These include:
Simple flushing, as full force flushing forward and backward is possible without the insert present.

Easy maintenance, as the design allows service or replacement of the insert without removing the valve housing from the installation.

Uncomplicated waste handling – at end of use, valve housing and insert are easy to separate and sort properly.
Third party verification of FlowCon PICV
FlowCon's PICV range is tested to BSRIA PICV standards. They are an easy solution to consultants, mechanical- and electrical contractors and end-users - due to the flexible complete solution, user-friendly setting, easy commissioning and low minimum ΔP.
FlowCon's range of PICVs includes:
PICV working principle
What is a PICV?
A PICV is a 3-in-1 solution combining a control valve, a balancing valve and a differential pressure control valve.
Why choose a PICV?
When choosing a true PICV with full authority you will always achieve optimal control and regulation which will result in ideal room temperature and proper heat distribution at lowest possible energy consumption. You will have happy users, lowered energy bill and reduced CO2 footprint.
How does a PICV work?
A PICV includes three valves in one body by combining the control function, the balancing function and differential pressure control function in one unit.
• Control
The control function of the PICV, as with any other 2-port control valve, allows load dependent flow variations from selected design flow (100% load) and down to closed valve (0% load). By varying the flow rate, the heat output of the terminal unit is controlled and will provide optimal room comfort. The key to the optimal solution is to choose a true PICV with 100% authority using full stroke or multiple rotations when regulating to reduced flow rates.
• Balancing
The key to the optimal solution is to choose a real dynamic balancing valve including a rolling diaphragm which at any time will self-balance to the required flow independent on system pressure changes. The balancing function shall be easily adjustable to several max. flow settings (minimum 41 different) in the same PICV.
• ΔP control
With changing load requirements in the system, system pressure will also vary. This calls for an automatic balancing solution which instantaneously compensates for the pressure changes by adjusting the flow outlet with the rolling diaphragm as described above under balancing.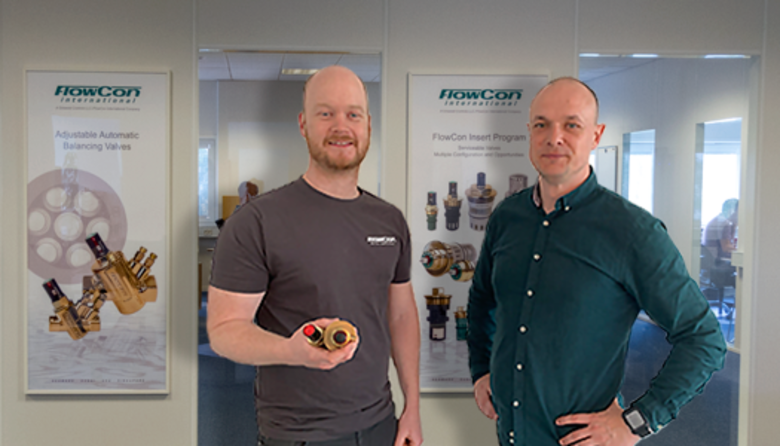 Questions?
Then Give Us a Call
If You have any questions, either in regard to FlowCon's products and services or how and where to use FlowCon products, just get in touch and we will be pleased to assist.
We will react as soon as possible, and written reply is normally within 8 hours if Your question is asked in English and during office hours. Other languages and requests asked during vacation time or weekends may experience longer response time. Likewise, for any special – out of standard – requests, You may not see an immediate reply, but we are responsive.
#YourEnvironmentOurCommitment