What is a System By-Pass?
System by-pass can be accomplished either in the plant room close to the pump or remote from the plant room at the end of line. Either way, a system by-pass will include a 3-way control valve. In the starting position and with all water required through the terminal, the by-pass will be closed. Once the 3-way valve's actuator moves to open the by-pass will become more and more open and at the end of the actuator stroke, all water will flow through the by-pass and none through the terminal.
System by-pass can be used in both heating and cooling applications and is frequently seen as a cost-effective fix in retrofit installations going from constant flow to variable flow. Another installation can be with end of line by-pass to guarantee constant minimum circulation securing instant heating or cooling. Or installing a pump by-pass to secure the pump against dry running and consequently overheating. At full load such a pump by-pass plus the system flow may not exceed max. flow of the pump.
How is a System By-Pass Application Optimized?
With proper balance, a system by-pass – nonmatter if is in connection with the pump or at the end of line - may a simple way to protecting the system and the indoor climate and consequently increasing people comfort.
For either system by-pass application, FlowCon recommends a combination of automatic/dynamic balancing and 3-way control:
1. System By-Pass (Plant Room) with Automatic Balancing (ABV)
FlowCon recommends the following ABV:
2. System By-Pass (System End) with Automatic Balancing (ABV)
FlowCon recommends the following ABVs: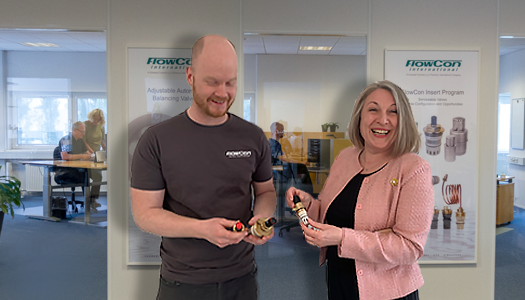 Still in Doubt?
Please Contact Us
If You are in doubt which Solution to choose to Your Application or how a specific product is working, please do not hesitate contacting FlowCon.
We will react as soon as possible, and written reply is normally within 8 hours if Your question is asked in English and during office hours. Other languages and requests asked during vacation time or weekends may experience longer response time. Likewise, for any special and out of standard requests, You may not see an immediate reply, but we are responsive.