This huge entertainment integrated resort has been using FlowCon valves continuously for the past 8 years - with great satisfaction.
Marina Bay Sands (MBS) is the leading business, leisure and entertainment destination in Asia. It is an integrated resort with a hotel, casino, retail mall, as well as convention facilities. The whole MBS gross area of 570.000 m2 is placed at the waterfront at Marina Bay. MBS consists of three 55-storey towers
as well as three low-rise domes housing boutiques etc.
MBS began operations in April 2010 with a phased opening, and officially opened that same summer. During its first year of operations, MBS drew 19,6 million visitors and hosted nearly 2.000 meetings, conventions and exhibitions and very fast MBS grew to be one of the most profitable properties in the LVS Group.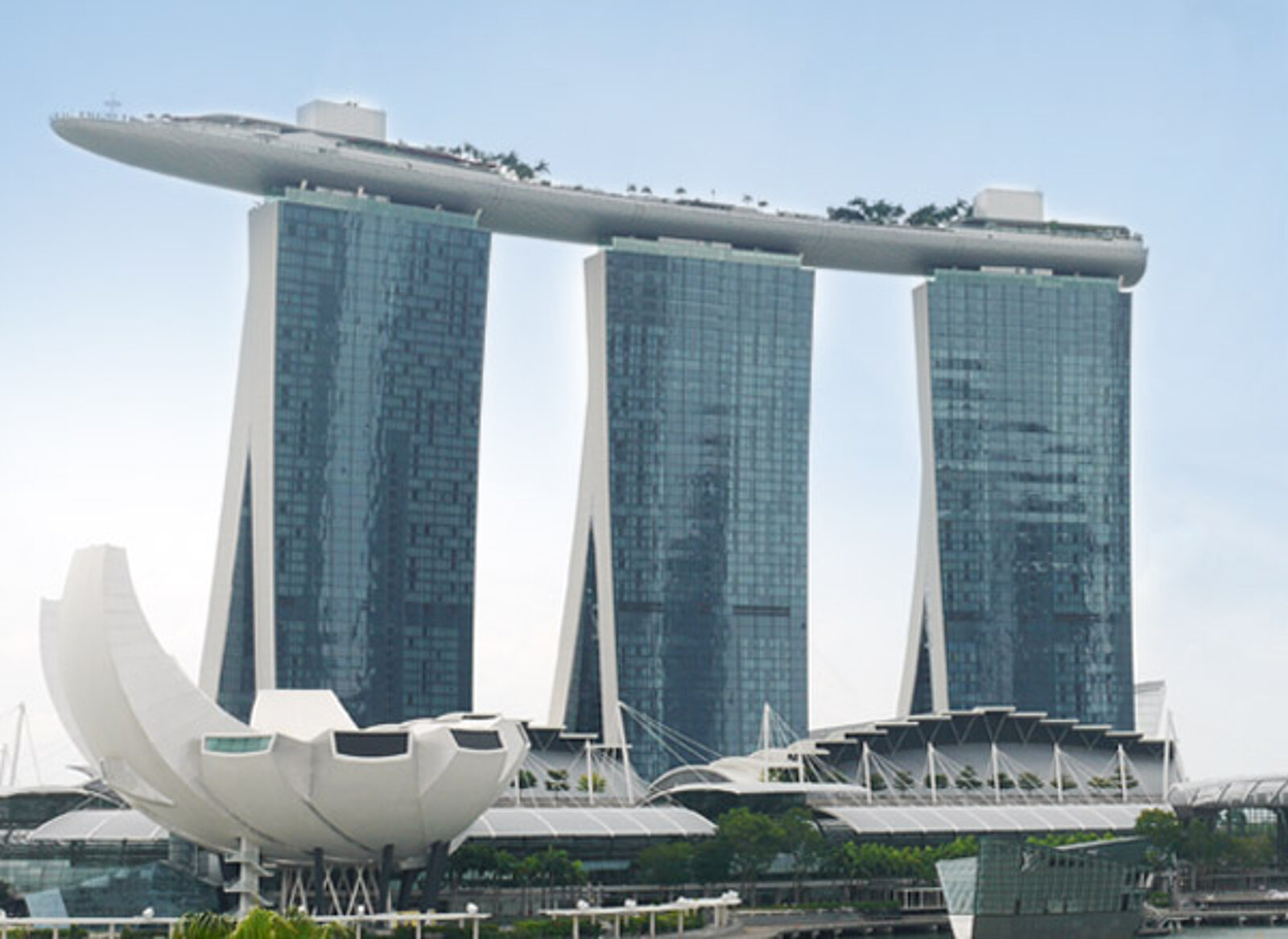 Owner:
Las Vegas Sands Corp. (LVS Group)
Developer:
Marina Bay Sands
Architect:
Moshe Safdie
Consultant:
Parsons Brinckeroff
Contractor:
Shinryo Corporation
Project Name:
Marina Bay Sands (North and South Podium)
Configuration of Building:
Integrated resort with 2.500 hotel rooms, casinos, ballrooms, theatres, museum and sky park dining
Number of Valves:
+1400 valves
Valve Model:
AHUs: FlowCon SM
FCUs: FlowCon EVS
Configuration:
PICVs on cooling AHUs and FCUs
Types of Application:
New building
Date of Installation:
Q1/2010
Date of Opening:
27th April 2010 / 23rd June 2010
Sale and Maintenance
During the sales process it was obviously that the project had very restrictive requirements to the products as well as the vendor. These requirements were amongst others: Origin, Serviceability, Performance, Reliability and Monitoring. FlowCon International was one of the only companies capable of providing a complete package, and still meet the requirements.
Origin: All products were required to be 100% European/USA origin, including sub-components. Materials for each process were required for documentation making sure it had the best quality.
Serviceability: The FlowCon International products supplied were modular built and could be disassembled for service without removing the valves from the pipeline. Spare parts could furthermore be purchased and replaced by the local distributor or by staff from the FlowCon International office in Singapore. Finally, all valves supplied were with the unique actuator system allowing the same actuator type to be installed on all FlowCon SM valve sizes. This allowed training of on-site staff easy, reduced number of spare parts possible and uniformed the data input and output optimal.
Performance: The FlowCon SM valves have a ±5% accuracy, operating over 2.160° and hold 100% authority at all times making it the most accurate PICV in the world. The installation of these PICVs as well as FlowCon EVS with VFD pumps versus the conventional 3-way valves and constant speed pumps were estimated to save more than 50% of the energy consumption. The valves installed could furthermore be programmed to follow a pre-defined sequence, allowing larger cooling load during for example religious festivals and prayers.
Reliability: The FlowCon SM has been installed in buildings globally for more 10 years at the time of order, making it the most well proven PICV valve in the industry. The valves were furthermore close to industrial rating with PN40 pressure ratings.
Monitoring: The FlowCon SM valves installed featured a feedback function, which would allow the valve to perform self-diagnostics. In case of any issue the valve could request service through this feature, before any effect was noticed and reported in the affected building.
---