The new-built construction includes 52 social housings, 1 cohabitation with 26 housings and 1 daycare center for 120 children (age group 0-6 years old) resulting in a total gross area of 9.200 m2. The project operates with more diverse housing types such as 2-storey "townhouse dwellings", one-level housings, penthouses and artist residences.
In addition, on street level, a residents' communal and several studios (individual workspaces for residents) are to be found. As low energy building, rainwater collection for slow disposal, solar PV and environmental services were essential in the design brief, it was only natural looking at energy optimization in the plant construction and as a result FlowCon valves were chosen.
The construction is divided over two building blocks of up to 5 levels (7 incl. plant rooms). District heating is provided through the basement and hot water to send through 4 shunts covering heating and hot surfaces. Heating and ventilation circuit variable speed pumps are calculated for full load capacity providing 60 kPa and 3,7 m3/hr for heating (one for each of the two blocks) and 60 kPa and 3m3/hr for ventilation (again one for each block).
For each riser (27), a set incl. a FlowCon AB with E-JUST (providing the dynamic balancing of flow into the zone) and a FlowCon DPCV (providing the control of differential pressure for the zone) was chosen for the radiator heating system and under floor heating (used in apartment bath rooms and daycare center) groups.
For the domestic hot water, FlowCon T-JUST was used.
All-in-all, an optimal solution for a unique new urban development.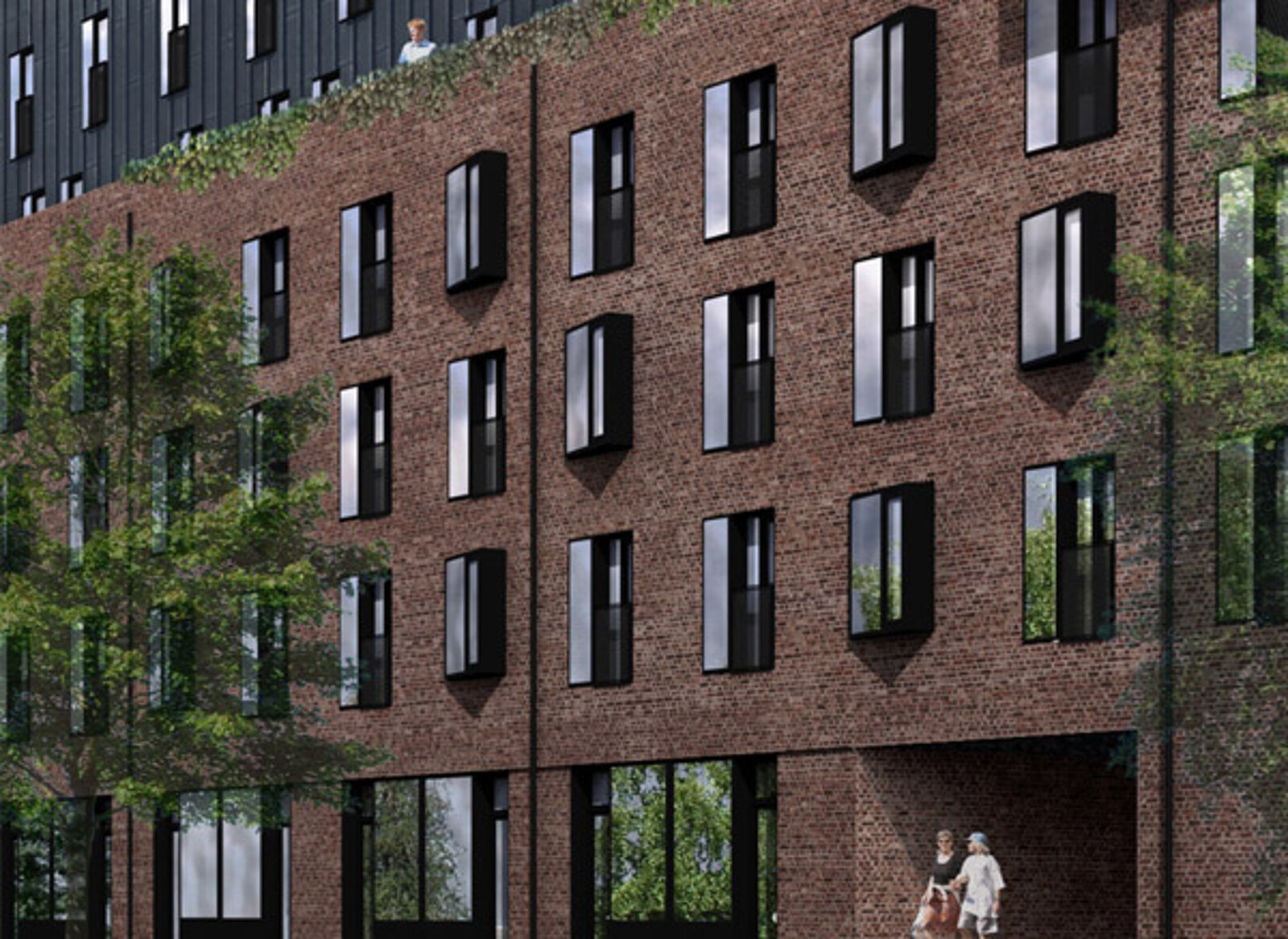 | | |
| --- | --- |
| Type of Application: | Joint construction incl. apartments, daycare center and cohabitation |
| Project Name: | Carl Jacobsens Vej 19-23, part of "New Ellebjerg" |
| Location: | Valby, Greater Copenhagen, Denmark |
| Configuration of Building: | FlowCon DPCV and FlowCon E-JUST on radiator heating system |
| Construction Time: | Februar 2012 to December 2013 |
| Opening: | January 2014 |
| Architect: | Tegnestuen Vandkunsten |
| Consultant: | DOMINIA AS |
| Main Contractor: | W. Lynggaard Petersen A/S |
| Customer Technical support: | Nicobelli ApS |
| FlowCon Distributor, Denmark: | Nicobelli ApS |
---