06.2018
New Terminal 3 at Soekarno-Hatta International Airport, Indonesia
To meet the high-growth in number of travellers in the Greater Jakarta area and Indonesia in general, the new T3 expansion project required high-class products. FlowCon SMs help on energy saving, cost saving and provide a constant cooling in benefit of both building owner and building users.
The new T3 (also known as Terminal 3 Ultimate) in Soekarno-Hatta International Airport, Jakarta, In-donesia is located on the north-eastern side of the airport. T3 has a totally different style than the other two terminals of the airport. Where T1 and T2 were built incorporating the local architecture into the design, T3 is a contemporary modern design with an environmental friendly and traditional sense. The terminal was first named Terminal 3 Ultimate but later it was decided to integrate it with the old T3. The expansion project included a main terminal building, roads and multi-story carpark. This is a modern terminal specifically designed to cater as a transit point for international airlines. Spanning 422.804 m² it has 10 gates for international flights and 18 for domestic, 206 check-in counters, 38 self-check-ins and 12 baggage drop counters, 48 aerobridges, 2 four-star hotels, meeting rooms, duty-free shops, retail outlets, restaurants and a multi-story carpark.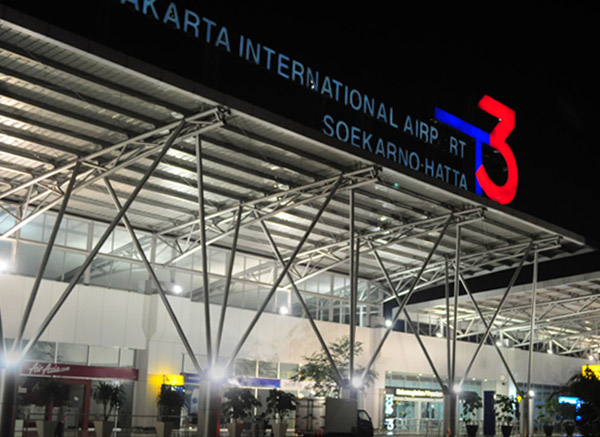 Project Developer:
PT Angkasa Pura 2
Architect:
Indolexco
Consultant:
PT Sigmatech Consultant
Contractor:
PT Widja Karya
Project Name:
Soekarno-Hatta International Airport Terminal 3, Jakarta
Configuration of Building:
AHUs, FCUs and Condensers
Number of Valves:
+300 valves
Valve Model:
PICV: FlowCon SM2-SM5 incl. BACnet actuators
ABV: FlowCon Wafer (factory pre-set)
Configuration:
PICVs on AHUs and FCUs; ABVs on Condensers
Types of Application:
New building
Date of Installation:
2014/2015
Date of Inauguration:
August 2016
The FlowCon SM valve is a dynamic control valve which automatically keeps a constant differential pressure across the internal controlling orifice of the valve. Consequently, pressure drop fluctuations across the FlowCon SM will not affect the set flow through the valve. The dynamic flow characteristics keep the FlowCon SM in constant authority and automatically balanced, eliminating the requirement for a separate balancing valve in the circuit. The FlowCon SM includes an innovative self-adjustment feature which enables each valve continuously to self-balance and to provide the better indoor comfort.
---