05.2017
Tianjin Lujiazui Financial Plaza, Tianjin, China
This magnificent building complex consists of a twin-tower including offices and apartment hotel, combined with an attached multi-functional mall with shopping, foodstuff and entertainment. Each of the two towers rises 182 meter and completed construction end of 2016 with granted LEED Core & Shell 2009 certification.
FlowCon supplied automatic balancing valves to the cooling and heating system and FlowCon's pre-set stainless steel solution was selected due to ease of use, tamper-proof design, and robust construction.

The client, Shanghai Lujiazui Finance and Trade Zone Development, has since early 1990'ies been committed to land mass development and urban function development projects. The Tianjin Lujiazui Plaza project covers an area of 450.000 m2 over 38 floor and is oriented to be the most important modern commercial center in Tianjin City - a project to be proud of.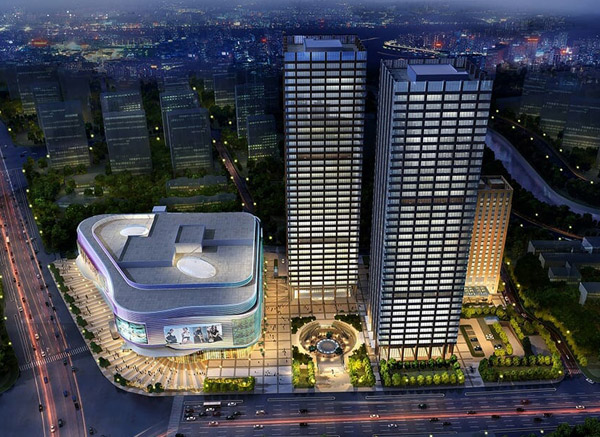 | | |
| --- | --- |
| Project name: | Tianjin Lujiazui Financial Plaza, Tianjin, China |
| Client: | Shanghai Lujiazui Finance and Trade Zone Development |
| Architect: | Tianjin architectural design institute |
| Consultant: | HLW Shanghai |
| Contractor: | Shanghai Construction Group |
| Valve model and quantity: | 200+ FlowCon K and 50+ FlowCon Wafers on Chillers, AHUs and PAUs |
| Application: | New building |
| FlowCon distributor: | WHCon |
| Date of inauguration: | May 2017 |
---