12.2009
Timone Hospital, Marseille, France
Timone Hospital is the largest hospital of Marseille and belongs to AP-HM (Assistance Publique-Hôpitaux de Marseille). Currently the hospital comprises two buildings originally opened in 1974; one building for children and one building for adults, totaling 1200 beds. The hospital is seen as a pioneer establishment in regards to pediatric transplants. In 1986, the Timone Hospital made its first (also being the first kidney transplant in France with child survival) successful kidney operation on a child, the child being only 1 year old.
The HVAC application was originally designed being an air-conditioning system controlling the temperature in the hospital rooms. The original system is more than 30 years old and with the continuous changing, also adding on the buildings' medical areas such as IRM, scanners, etc. resulted in no water balance. Hence, during several years, patients' rooms were without air-conditioning. With the current modification of buildings and construction of new buildings, the solution was to put FlowCon AHUs on each riser which allowed re-storing air-conditioning in the summer of 2009. In 2010, a second phase will take place where FlowCon E-JUST cartridges in AB-bodies will be installed on all branches.
In October 2007, major work began to enable the construction of two new buildings. This current and ongoing extension of the hospital will finish end of 2011, resulting in the fact that the Timone Hospital will hold Europe's largest medical center devoted to children and their families as well as a new medical-technical building.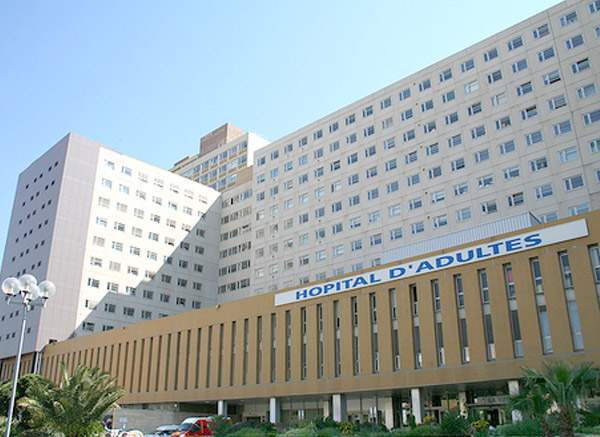 | | |
| --- | --- |
| Project Name: | Timone Hospital |
| Location: | Marseille, France |
| Type of Building: | Hospital |
| Configuration of Building: | FlowCon E-JUST and FlowCon AHU to control flow to the hospital's air-conditioning system |
| Date Installed: | from end of 2008 and ongoing |
| Opening: | end of 2011 |
| Consultant: | AP-HM Technical Department |
| Contractor: | AP-HM |
| Installer: | COFELY |
| Customer Technical Support: | La Robinetterie Industrielle |
| FlowCon Distributor, France: | La Robinetterie Industrielle |
---