FlowCon International introduces
the BIM Models for MagiCAD and Revit Software
FlowCon International is striving to make the calculation and selection process as simple as the actual product usage and are therefore glad to launch our new BIM drawing portal. BIM stands for Building Information Modelling aimed to ease selection, calculation and 3D modelling of HVAC systems.
FlowCon International has opted to introduce the BIM models for MagiCAD and Revit software, allowing multiple benefits in the pre-construction phases, such as:
Calculation functions for sizing, balancing, cooling and heating requirements, sound calculations and energy consumption with FlowCon valves installed
Flow velocity calculations with FlowCon valves installed
Detection of incorrect selections (collision control) meaning selections that are outside valve specifications in terms of; pressure, size and flow
3D modulation of system to protect against piping layout conflicts
Product selection
Direct print of FlowCon International product specifications
Direct print of Bill of Quantity.

FlowCon drawings are already included in the MagiCAD program, whereas the valves will need to be downloaded into Revit using below procedure:
Go to www.magicloud.com
Press: Browse BIM Objects
Search or Select FlowCon
Select the product needed
Download the Revit file.

If you do not have a MagiCloud account already - you have to create a free account for downloading.
Besides the BIM drawings available on MagiCloud, various 2D, 3D and BIM drawings are available from FlowCon upon request.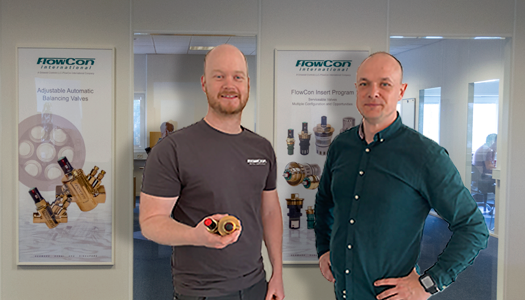 Questions?
Then Give Us a Call
If You have any questions, either in regard to FlowCon's products and services or how and where to use FlowCon products, just get in touch and we will be pleased to assist.
We will react as soon as possible, and written reply is normally within 8 hours if Your question is asked in English and during office hours. Other languages and requests asked during vacation time or weekends may experience longer response time. Likewise, for any special – out of standard – requests, You may not see an immediate reply, but we are responsive.