05.2020
Mercedes-Benz HQ in Nieuwegein, The Netherlands
The Mercedes star is shining over the new Dutch headquarters. The popular buzz-word Circular Building is in this case going from old and empty to modern and sustainable.
#CircularBuilding #EnergyEfficiency #Sustainable #FlowCon

Application
The Mercedes-Benz building is located in the northeast of Nieuwegein and bordering the city of Utrecht and the whole area is currently going through a phase of redevelopment. Historically, Mercedes-Benz has been located in this area and the building is a built-to-suit serving as their new Dutch headquarters and their only Dutch office. The renovated building provides a total of 12,333m2 over 5-storeys. The property update includes parking spaces for 273 cars and a new road access. Circular Building arise when transforming the existing building into a new building and directly saving CO2 emissions benefitting the environment.
The renovation resulted in a modern and inspiring office environment with a center atrium courtyard and offers open office space, an auditorium, employer-restaurant, and meeting facilities all with unique focus on human comfort.
FlowCon's Dutch distributor, Easy-Fitt supplied both the contractor and the cooling ceiling manufacturer with FlowCon valves and other supplementary products. The choice for FlowCon valves was based on the contractor's test results amongst several valve brands. Both FlowCon E-JUST and FlowCon Green, which were the selected valve types in the project, are pressure independent and incorporate FlowCon's unique user-friendly and flexible insert solution.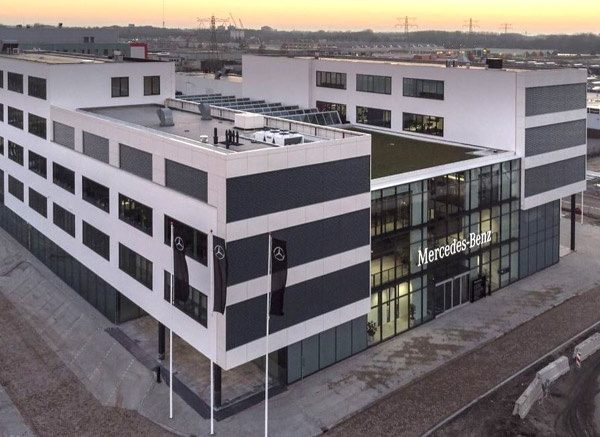 | | |
| --- | --- |
| Project name: | Mercedes-Benz Nederland |
| Client: | Delta Development Group / Daimler Real Estate |
| Architect: | OPL Architecten |
| Contractor: | HOMIJ Technische Installaties |
| Valve model and quantity: | ~400 FlowCon E-JUST for cooling ceilings and FlowCon Green for underfloor heating |
| Application: | Retro-fit |
| FlowCon distributor: | Easy-Fitt Installatiematerialen |
| Date of inauguration: | February 2019 |
---