Favorable verdict for FlowCon in Patent validity dispute with Frese
The European Patent Office has confirmed the validity of FlowCon's European patent on PICV in opposition proceedings

Based on the argumentation presented by both FlowCon and Frese, the Opposition Division of the European Patent Office has decided to uphold FlowCon's European patent no. EP 2729719. The decision can be downloaded here.
Background:
FlowCon was the first company in the world to present a Pressure-Independent balancing Control Valve (PICV) 25 years ago. Ever since, FlowCon has been at the forefront of the development with a range of further improvements and innovations on PICVs.
In 2012, FlowCon filed a European patent application directed to an improved PICV. The granted European patent EP 2729719 was published in 2015 and opposed by Frese A/S in 2016.
After written and oral proceedings with submissions by both FlowCon and Frese, the European Patent Office ruled in favor of FlowCon in 2018, determining the European patent to be valid.
In addition to European patent EP 2729719, FlowCon's PICVs are protected worldwide by corresponding granted patents in China, Indonesia, Korea, Malaysia, Russia, UAE and USA, as well as a pending patent application in India.
FlowCon's PICVs comprise a number of innovatively designed and arranged components, which allow the maximum flow to be set independently from, and to remain unaffected by, continuous flow regulation in use. Furthermore, these PICV inserts are inexpensive and easy to replace as compared to other known solutions on the market.
FlowCon's more recent innovations are also globally protected by patents to further underline the competitive edge of FlowCon's products.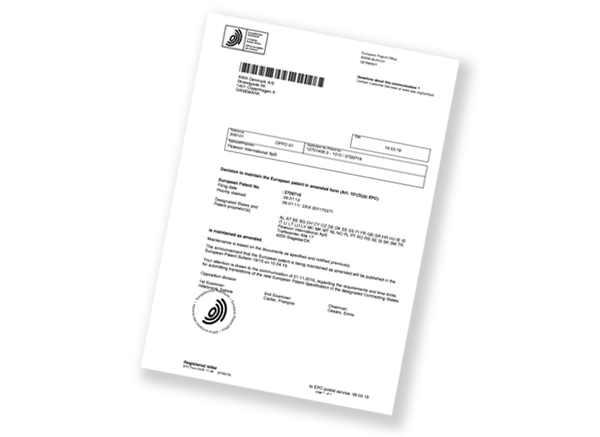 ---