10.2020
World Capital Tower, Jakarta, Indonesia
The new World Capital Tower in Jakarta's Mega Kuningan Circle is to be a Global Financial Landmark; despite stock variation and currency fluctuations all is kept cool with FlowCon valves.
The World Capital Tower, WCT is a Grade A office tower with 51 floors found in the very heart of the Indonesian capital - the city's new renowned centerpiece. The total project sums to 130.000 m2 and it includes everything from 80.000 m2 office space in the tower itself as well as retail and entertainment space including a restaurant and a musalla in the adjoining building.
The WCT has won several awards hereunder Asia Property Awards 2019 as regional winner in the category 'Best Office Architectural Design' and Indonesia Property Awards 2019 as winner in the same category.
WCT is equipped with special façade coating with low-e-double glass in order to reduce outside noise, reject solar heating and harmful rays and at the same time allow the building's air conditioning to run more economically. Next to this the A/C system is equipped with FlowCon valves on all FCUs and AHUs to support ideal indoor climate at optimal energy consumption.
Application
FlowCon TCVs and PICVs were selected for the entire cooling project. On the smaller FCUs FlowCon EVS with ON/OFF control was selected and on the larger FCUs FlowCon Green was the right choice. For the AHUs FlowCon Green.3 and FlowCon SMs were selected. The chosen PICV-valves were all installed with electrical modulating actuators providing a true PICV solution with full authority. FlowCon was nominated the project by the building owner due to fact that FlowCon is European based, provides high quality in service and products and is able to offer the required country of origin.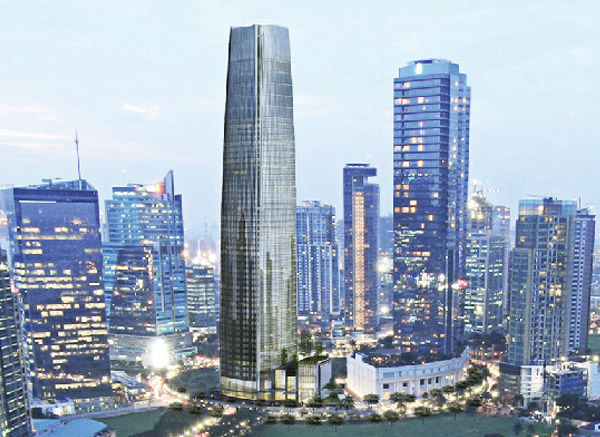 | | |
| --- | --- |
| Project name: | World Capital Tower |
| Client: | PT. Pollux |
| Architect: | Aedas Pte Ltd (Singapore) |
| Consultant: | PT. Metakom |
| Contractor: | PT. Airsindo |
| Valve models and quantity: | 300+ FlowCon EVS (Temperature Control valves) and 600+ FlowCon Green and FlowCon SM (PICV's) |
| Application: | New building |
| Date of inauguration: | April 28, 2019. |
---