FlowCon SDP
- the Simple Differential Pressure Control Valve
The FlowCon SDP is a basic pre-set differential pressure control valve. The intentions behind the FlowCon SDP have been to develop a cost efficient, stable, durable, serviceable, energy efficient and easy to use differential pressure control valve.
The FlowCon SDP is with its simplified construction, build on the technologies proven in the FlowCon ABV and FlowCon E-JUST inserts over the past 20 years, an extremely stable and durable partner in the HVAC system. The insert design of the FlowCon SDP makes it the first insert based DPCV in the industry, which allows the DPCV to be serviced, if required, without being removed from the piping system. In order to enhance the durability even further and make the valve as easy to use as possible, the DPCV is pre-set from factory. The pre-setting allows fewer internal components and direct installation of the product without additional site adjustments, to save time and thereby money during installation as well as limiting the chances of product tampering during operation stage.
FlowCon SDP is, despite the simple appearance, state of the art in terms of functionality. The accuracy and pressure drop consumption are in a league of its own, making it extremely energy efficient. In fact, the regulation will start as low as 3 kPaD.
The insert matching the standard FlowCon valve body offering, which allows accurate valve configurations based on project requirements.
FlowCon SDP offers:
DPCV functionality ensuring a constant differential pressure across a specific Circuit.
Noise protection as the differential pressure and thereby pipe velocities are restricted.
Multiple differential pressure ranges to accommodate most system requirements;
- 10 kPaD
- 20 kPaD
- 30 kPaD.
Pressure rating PN25 standard.
Insert solution, giving multiple advantages during installation, flushing and maintenance.
Multiple valve bodies available, three different valve bodies available for selection optimization.
Low pressure drop starting at 3 kPaD.
Flow rate: 45-1419l/h.
Fast responding mechanical components allowing rapid response to system changings.
No special tools are required.
Flushing is possible without inserts installed.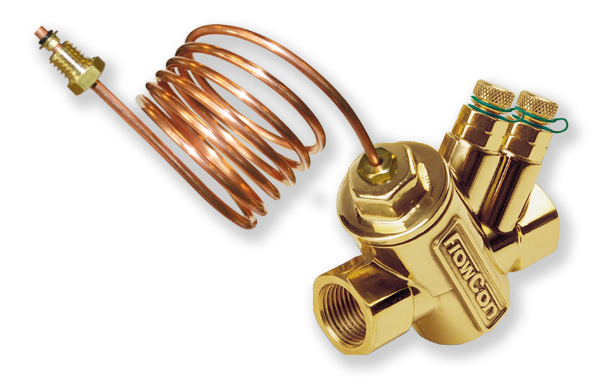 ---